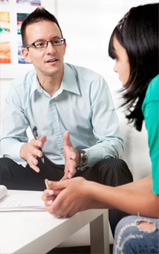 Italian for University / Official exam preparation courses
Our academic preparation courses are perfect if you wish to study at an Italian university or attain an official certificate to demonstrate your level of Italian. An official certificate is an investment in your future and will put you at the front of the line for jobs in an Italian-speaking company.
-Your course will be structured to help you pass whichever level of the CILS exam you wish to take. As with all of our Italian courses, they can be taken one-to-one or in a small, closed group.
The course does not include the CILS exam itself, for which you will have to enrol independently.
About the CILS
CILS (Certificazione di Italiano come lingua straniera) is an official qualification offered by the Foreigners University of Siena in partnership with the Italian Ministry of Foreign Affairs. It is accepted by Italian universities as evidence of proficiency in Italian, so you would not have to sit language entry exams.
The CILS exams traditionally take place every June and December and can be taken at hundreds of locations around the world.
CILS levels
There are six levels of CILS exams corresponding to the six levels of the CEFR, but the most important exams are those covering intermediate (B1) to advanced (C2):
CILS Uno (B1) consists of a three hour exam, testing the candidate's knowledge of basic Italian.
CILS Due (B2) consists of a tougher, four hour examination. Successful candidates will be able to converse in Italian. A CILS Due certificate is the first level accepted by Italian universities as evidence of an applicant's language skills.
CILS Tre (C1) consists of a five hour-long examination. It acknowledges a high standard of fluency in Italian.
CILS Quattro (C2) consists of a five and a half-hour long exam. The certificate demonstrates near native-level Italian.