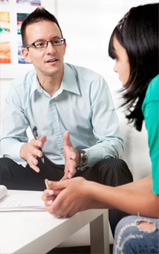 Learn Business Italian
Our fully-qualified, native Italian speaking teacher will come to your home or workplace and deliver high-quality, personalised business Italian tuition.
These courses are suitable both for individuals learning Italian for business purposes and for corporate clients.
One-to-one and small group classes
Learning one-to-one or in a small closed group with colleagues you will make rapid progress in areas that are directly relevant to you and your motivations for learning business Italian. Typical topics covered in a business course that do not appear in a general Italian course include emailing, business etiquette, letter writing, formality and presentation skills, along with the most important themes from a general course.
If you are planning on booking a group course, please be aware that all learners should be at roughly the same level for the course to be of real benefit. If you need help finding your current language level or that of your colleagues, just ask and we will provide the tools necessary.
All levels: beginner, intermediate, advanced
The content of your business Italian course will depend on the goals of the learners but also their starting level. Beginner courses focus on the building blocks of the spoken language while more advanced courses place a greater emphasis on skill refinement through written work.
Expert business Italian teachers
Where possible, our Italian for business classes are delivered by teachers with a background in the professional world, a specialised qualification or a strong record of providing language teaching to business learners. As with all of our teachers, they are fully qualified and experienced Italian native speakers.
At your home or workplace
You will need to provide a suitable location for your business Italian course. Usually, this will be an office, canteen or staff room, but you can choose any location that is calm and quiet enough for learners to focus on the teaching. As with all of our courses, you have complete flexibility.