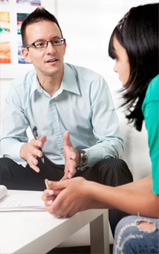 Learn Italian with an expert teacher
Whether you want to learn conversational Italian, learn Italian for a holiday, learn for a loved one, prepare for a move to Italy or simply enjoy the charm of the language, our General Italian course will help you develop your skills rapidly. You will gain confidence with the help of an experienced native speaker teacher and work at the pace that is right for you.
A tailor-made Italian course
Whatever your current level of Italian, you will receive tuition designed to encourage maximum progress. The content and methodology of the course differ slightly between beginner, intermediate and advanced courses to ensure that learners are being constantly challenged in a positive way. For example, more advanced students will often be encouraged to write more in order to refine their skills, whereas beginners focus more on the building blocks of the language and increasing spoken confidence. This technique is based on years of language acquisition research.
Rapid progress and great value
Your course will be adapted to your individual requirements, so you learn the language skills that you need. When you learn a language one-to-one or in a small, closed group, the experience is much more rewarding than learning in a large group as you probably did at school. The teacher will be more attentive and dedicate more time to ensure you fully understand each topic before moving on to the next. The topics themselves will be relevant for you.
Italian lessons wherever and whenever you want
Simply tell us when you will be available and where you would like your first lesson and we will send a teacher to you, even at the weekend. We believe passionately that you will make optimum progress when you are in a comfortable, motivational environment and can focus fully on the learning experience.