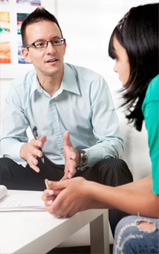 Ultimate flexibility: learn Italian online
If you want to enjoy the benefits of one-to-one or small group Italian classes anywhere, anytime, our online Italian lessons might be right for you. You enjoy all the benefits of working with an experienced, native Italian speaker teacher, but you can take your lessons absolutely anywhere. All you need is an internet connection, a webcam/microphone and a Skype account.
Unlike other online language courses, with our online Italian lessons you will work with a qualified teacher who will shape your course towards your interests.
Course content
Our online courses are based on the same tried-and-tested syllabus as our traditional courses, covering a range of topics. Along with the core topics, your course will be tailored according to your goals and motivations, so be sure to let your teacher know why you are learning Italian and what you aim to achieve. Beginners' courses have a greater emphasis on comprehension and developing the skills needed to survive in everyday situations, while more advanced courses will encourage you to perfect your skills through a wide variety of exercises.
How it works
When you book an online Italian course, we can help you determine your current level of Italian. Once we have that information, we will either post or email you the material you need to start the course. The teaching will then take place over Skype and a free online conferencing website in much the same way as a traditional course. As with all of our courses, you will have a dedicated teacher.
Exceptionally good value
We can offer lower rates for online courses because our teachers do not have to travel to provide tuition. We pass the cost savings on to you.
Interested?
Contact us to find out more about our personalised online Italian courses.