Rome, one of the world's top tourist destinations, is a city of great history, great excess, great shopping, and great nightlife.  But what if you're traveling on a family holiday?  Don't miss out on the proverbial endpoint of all roads simply because you're with children in tow; Rome can be a fascinating and enlightening experience to be enjoyed by all ages.  Check out these tips on child-friendly sites and activities in Rome that your whole family will get a kick out of.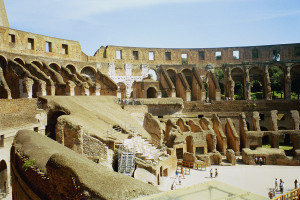 1. The Coliseum.  While this was probably at the top of your list anyway, the Coliseum is a vivid and exciting way to immerse your kids in ancient history.  They'll be so excited to wander and explore the ruins of the once great entertainment stadium that they won't even realize that they're learning at the same time.
2. The Trevi Fountain.  Let your kids leave their mark on Rome—an old legend states that anyone who tosses a coin into the fountain of La Dolce Vita fame is destined to return to Rome someday.  It also makes a great backdrop for family photos.
3. Sistine Chapel.  While too much museum time can lead to fidgeting, any of your kids who've ever enjoyed an art class or playing with crayons will be astounded by the ceiling frescoes of the Sistine Chapel in Vatican City.  Take the whole family to gaze up at Michelangelo's masterpiece and see what inspirations will come from that.
4. Open-air Theatre.  Get your kids to practice their Italian by heading to Gianicolo Hill, where they will be treated to free plays for children, as well as a public playground and pony rides for younger children.  For parents and teenagers, the view of the city you get from the top is well worth the climb!
5. Porta Portesese Flea Market.  Every Sunday, located in Viale Trastevere near Gianicolo Hill, there is a massive flea market, or mercatino, full of knick-knacks and antiques for all interests.  Not only is this a good chance to walk in the sunshine and eat some gelato, but it's also the perfect place for people-watching, as it's frequented by both locals and tourists.
6. Via dei Fori Imperiali.  Every Sunday, in a city-wide push to reduce their carbon footprint, Rome shuts down all traffic within the city limits, and the boulevard that connects the Coliseum with the Piazza Venezia becomes a family-friendly block party, filled with live musical events and entertainers and fun of all sorts.  Definitely worth a stroll down.
7. Villa Borghese.  This beautiful public park will appeal to anyone, and you can rent bikes and ride around for the entire day.  Pack a picnic lunch and enjoy it while your children burn off energy on the playground, Casina di Raffaello.
If you are planning an extended family trip to Rome, be sure that you have an understanding of basic Italian, to get the most out of the experience for you and your family.  Send us an inquiry to get started, or check out our various different levels of Italian courses to see what would be right for you.