If you're a religious reader or watcher of George R.R. Martin's series Game of Thrones, then you absolutely owe yourself a tour of Italy's countryside. First of all, here you'll find miles of rolling hillsides, lakes and mountains, vineyards and valleys that one can very easily imagine a medieval cavalry riding across. Even more importantly, Italy's stormy history, filled with knights errant, decadent feudal societies, warring city-states, and political intrigue, could very well have inspired the fantastic world of Westeros. Even if Italy is a modern European nation now, its countryside is full of remnants of its epic past. Relive history by visiting these five fantastical towns off the beaten track.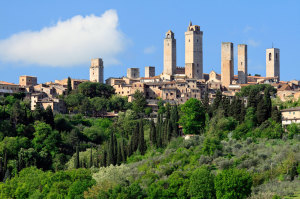 San Gimignano. This small city in the hills of Siena in northern Italy is a UNESCO World Heritage Site, known as "The City of Fine Towers," due to its collection of Romanesque and Gothic churches. Once an intermediary city on a pilgrimage route from northern Europe to Rome, San Gimignano also has historical clout in being a hotspot in the now legendary clash between the rival Renaissance families, the Guelphs and the Ghibellines; it once even hosted a visit from Dante Alighieri. Today, it's worth the visit for its arts and culture scene, as well as its impressive skyline of medieval tower.
Costiera Amalfitana. A series of communes on the Mediterranean coast, the Amalfi coast dates back to Neolithic settlements. It went through a series of sieges and lootings until it declared independence and became a key port town with a monopoly on maritime trade in the Tyrrhenian Sea. Its beaches, fjords, and grottoes (not to mention perfect climate) make this an ideal town to relax and enjoy the scenery, while centuries of Arabic influence make it fascinating in terms of architecture and culture.
Assisi. Another UNESCO heritage site built on a hill, Assisi has especial claim to fame by being the birthplace of the Franciscan order, after its patron saint, St. Francis. Following a series of invasions by barbarians, the city became home to a wide variety of stunning basilicas—the Basilica of San Francesco is decorated by Biblical and allegorical frescoes by Renaissance greats, such as Giotto and Pietro Lorenzetti.
Tivoli. This classical city outside of Rome really has it all: a river, waterfalls, hills covered in lush, deciduous forest, plus castles and fortresses galore. Dating back to ancient times as city constructed to be the perfect classical Greek ideal, Tivoli was an important site of political conspiracies and feuds throughout the Renaissance. In modern times, it retains its fame for its lush gardens at Villa d'Este, and for its hauntingly beautiful works of sculpture and architectural ruins at Villa Adriana.
In fact, in light of Italy's larger than life past, a lot of which has been preserved in less-visited cities like these, history is arguably more exciting than fiction. While there may not be dragons, White Walkers, or winters that last for centuries, a visit to the Italian countryside will fill your imagination with thoughts of jousts, tournaments, and epic battles. If you want to learn more about the country that inspired centuries of art, literature, and film, send us an inquiry or look into our various Italian language courses.
Leave a Reply