Forget the pasta and pizza that's normally associated with dining in Italy – if you're visiting Sicily, you owe it to yourself to explore its unique and eclectic cuisine.  With its location right in the middle of the Mediterranean Sea, Sicily's culture has been influenced by thousands of years' worth of different civilizations, and its warm climate and abundant farmland produce some of the most flavorsome produce on the continent.  If you don't know where to begin, here are ten of Sicily's most popular dishes.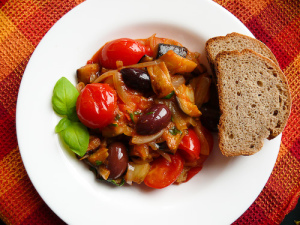 1. Caponata.  Sicily's soil is perfect for growing aubergines, so they are a common ingredient in many of their courses.  Caponata is a sour-sweet stew of fried aubergine, onions, zucchini, capers, balsamic vinegar, and pine nuts.
2. Alici alle arance. Two of Sicily's most defining foods are anchovies and oranges; this salad combines both, consisting of sliced oranges, salted anchovies, pine nuts, and parsley.
3. Arancini. A popular street-food, arancini are fried rice balls with a surprise, savory filling: they could be stuffed with mozzarella, vegetables, or seafood, so be sure to sample many different varieties!
4. Insalata di carciofi e fave.  A simple but refreshing starter, this salad consists of marinated artichokes and fava beans.  Not only is it tasty, but it's also filling and high in protein.
5. Pane e pannelle.  Another street-food, pannelle are deep-fried chickpea fritters, similar to falafel from the other side of the Mediterranean.  They are eaten between slices of bread and make for a tasty on-the-go snack.
6. Cuscusù con cernia marinata.  Drawing from North African roots, this is a couscous dish cooked with marinated grouper or any other seafood that's at hand.  It is traditional to Trapani of West Sicily, and is often served in an enormous platter garnished with an abundance of different types of fish.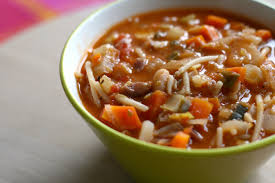 7. Polpo bollito.  Sicily's fame for seafood ranges beyond the conventional fish and mollusks; get your tastebuds out of their comfort zone by sampling some boiled octopus.
8. Involtini siciliani. Sicily's take on meatballs, these are bite-sized dumplings of veal, tomatoes, raisins, and pine nuts.  They are often served on a bed of pasta or rice.
9. Pani ca meusa. Straight from the streets of Palermo, this is a dish for the truly daring.  "Pani ca meusa" translates as "bread with spleen," and it is indeed bread stuffed with the chopped spleen and lungs of veal.
10. Sfinci di San Giuseppe. Of all Sicily's delectable pastries, if you can only try one make it these fried cream puffs stuffed with sweet sheep's cheese (after all, cannoli are standard fare in cafes all around the world now).  Garnished with chopped fruits and dusted with powdered sugar, they are an ideal addition to an after-dinner espresso.
Of course, these are just a sampling of Sicily's wildly diverse menu of antipasti, main courses, and desserts.  To truly appreciate their culinary history, you will have to invest more into this island province than a brief visit; take a look at our different Italian courses to get started, or send us an inquiry.