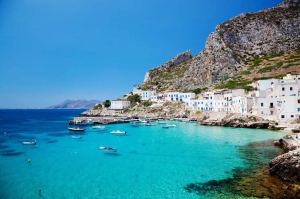 As the summer months approach, you're probably looking for a holiday destination that's affordable, has great food and drink, and has unforgettable beaches. Look no further than Italy—with 7,600 miles of Mediterranean coastline, Italy offers some of the world's most spectacular beaches at prices that won't break your budget. Whether you're looking for surfing, sunbathing, partying, or family-friendly fun, here are some of our top picks for catching some sun and surf in Italy.
Amalfi Coast. If you're looking for picturesque Italian countryside complete with romantic cliffs and secluded beaches, the seaside town of Amalfi is your best bet. With many of the beaches accessible only by private resorts, this is the beach experience for those seeking luxury – not for budget travelers!
The Italian Riviera. More accessible to the public is the Italian Riviera at Cinque Terre, where you will find plenty of beaches, restaurants, hotels, and hikes throughout the region's idyllic traditional villages. While this is the quintessential Italian holiday experience, keep in mind it will be packed with tourists, especially in the summer months.
Viareggio. While Tuscany is famous for its wine country, its gorgeous beaches are a little more hidden away from the spotlight. However, small coastal villages such as Castiglione della Pescaia and Maremma offer white sand beaches and azure waters, plus the some great spots for scuba diving and other activities, without all the hype.
Sant'Andrea. For European history buffs, a visit to the famed isle of Elba, site of Napoleon's exile, will offer plenty by way of tours and museums. For those looking more to relax, there are plenty of beaches for sunbathing, swimming, and diving. Plus, you can rent boats.
Spiaggia Sabbie Nere. If you're looking for something a little different from the typical tourist beach, head to Sicily's island of Vulcano. There you'll find dramatic, black sand created by the volcanic island as well as natural hot mud baths for pampering your skin.
Reserve Naturale di Vendicari. For the lover of wildlife and breathtaking geographic formations, Sicily is also home of the Natural Reserve of Vendicari, that offers untouched beaches free for the exploration. Get a tan and take a dip, and then go bird-watching, as the reserve is the habitat for hundreds of species of waterfowl, such as herons, flamingoes, and pelicans.
The Tremeti Islands. For the adventurer who longs to go further from the norm, take a hydrofoil boat to the Tremeti Islands in the Adriatic Sea. There you'll find quite a different experience: natural beaches hemmed by limestone cliffs and a jungle of wild orange and fig trees. You'll truly feel as if you're in paradise.
Venice. It may seem like an obvious choice, and while Venice is dirty and overrun by tourists, its romantic appeal is second to none. If you'd like to lounge on a golden sandbar minutes from the lavish hotels and piazzas frequented by such historic expatriates as Lord Byron and Henry James, the "Island of Gold" is ten minutes from the city center.
While you should certainly not limit your trip to Italy to the coastline, it is worth pointing out that here you'll find some of the finest beaches in the world. And, of course, they come with the added bonus of fresh seafood. As you count down the days to summer, why don't you put the last of the winter months to good use by taking a look at our Italian courses. Otherwise, send us an inquiry for more information.
Leave a Reply