It's easy, when thinking about Italy's food culture, to get distracted by its diverse range of pasta, pizza, and seafood dishes, and in doing so lose sight of the course that many are often too full by the end of the night to even consider: dessert.  But Italian culture addresses dessert with the same care and gusto they put towards the rest of their meals.  And while pastries like cannoli and tiramisu are standard additions to most menus now, Italy's branch of sweet fare encompasses so much more.
For one thing, Italy's contribution to the world of cookies and biscuits is seemingly endless.  Everyone has probably had biscotti with their coffee at Starbucks, but there are also pizzelles, a thin, waffle-like cookie with a lacy pattern, flavored with anise, vanilla, or almond extract.  The Prado-based cookies brutti ma buoni (which translates to "ugly but good,") look like unappetizing stones, but have a delicate almond flavor.  The Florentine is a particularly elaborate concoction: a caramel disc coated with dark chocolate, chopped hazelnuts and almonds, and candied cherries.
Many types of pastries are so special and so time-consuming to make that they're reserved for a certain time of year, generally Christmas or Easter.  The bocconotto, eaten at Christmas, is a fluffy pastry from the region of Abruzzo which is filled generally with cocoa powder or cinnamon.  Pignoli are popular almond macaroons made of marzipan and studded with pine nuts, traditionally reserved for All Saints' Day.  The Sicilian viscotta is an age-old recipe for cookies that are rolled into various shapes and baked, generally in preparation for Christmas.  The dough takes many days to prepare—it is stuffed with anise seeds and allowed to sit in a cool place in order to let the flavor develop fully.  Typically, because they're such a headache to make, the yearly batch is large enough to feed an army, and a whole platoon of mothers, sisters, and daughters contributes to the baking!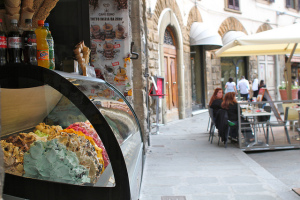 Of course, Italians have mastered the art of cakes as well.  The genoise is a Genoese sponge cake made without traditional leavening—instead, the chef mixes the batter up in such a way that air gets trapped inside.  Variations involve replacing some of the flour with cocoa powder, or soaking the final cake in flavored syrups or liqueurs.  Moreover, anyone with an intolerance to gluten will delight in the torta caprese, which is a flour-less cake made with minced almonds and melted chocolate.  Referred to as "one of history's most fortunate mistakes," legend has it that the torta caprese was created when a baker forgot to add flour to his cake batter.  The resulting cake has a thin shell and a moist, chocolaty interior, much like the best brownie you've ever had.  It can be enjoyed accompanied by Italian gelato and a small cappuccino, or simply on its own.
If reading about a few of Italy's choicest desserts makes your mouth water, delve deeper into its pastry culture by learning Italian.  Send us an inquiry to get started or take a look at our different levels of Italian courses to see where you might place.
Leave a Reply