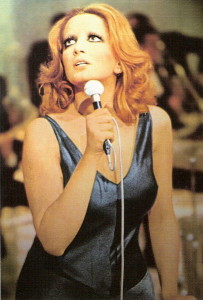 When we think of Italian singers of the 20th century, the most common image that comes to our mind is that of male opera tenors: Pavarotti, Enrico Caruso, and Andrea Bocelli.  However, one of Italy's most widely loved and controversial pop stars—with the haunting vocal power of Adele and the shock value of Lady Gaga—was a woman from Lombardy named Mina Mazzini.  Although her name is largely unknown in the United States, she was a world-wide music legend over the course of her five-decade career, and Louis Armstrong famously declared her to be "the greatest white singer in the world."
Mina Mazzini, born Anna Maria Mazzini, started her music career at the age of 18 and quickly became known as "The Queen of Screamers" for her loud, energetic voice.  (An urlatori, or "screamers" referenced a trend in Italian music of high-volume singing drawn from the boogie-woogie and blues genres of American music.)  Mina's three-octave vocal range and enthusiastic performance style quickly drew the attention of the music industry.  Italy immediately embraced her as a rising star in the doo-wop scene, and her songs quickly flew to the top of the charts in Italy.
As her career developed, Mani moved away from the pop-swing genre and began singing deeply emotional love songs, generally tragic ones, which were more suited to her resonating voice.  She began to experiment in different musical styles such as jazz, mambo, soul, and somber, brooding love ballads such as Un anno d'amore.  Leaving behind her image as a clean-cut rock and roll ingénue, Mina dyed her hair blonde, shaved her eyebrows, wore heavy eye makeup, and introduced a new, melodic sensuality to her performing.  Her gestures and interpretive hip-movements brought her music to life; more than a singer, Mina was a musical storyteller whose love of singing was evident in every note.
Scandal struck when Mina became pregnant by Corrado Pani, a technically married man, though separated from his wife, as divorce was then illegal in Italy.  Even more unseemly was Mina's refusal to cover up the relationship, which led to the Catholic Church demanding that she be banned from Italian TV.  Audiences, of course, were outraged, and they purchased her records more than ever, demanding to have her back on the air.  Such success in the face of the Vatican's condemnation gave Mina the chance to cultivate her new image of independent, rebellious womanhood.  She sang songs on subjects which were frowned upon by the Church as being immoral and unfeminine: smoking, sex outside of marriage, and the female libido.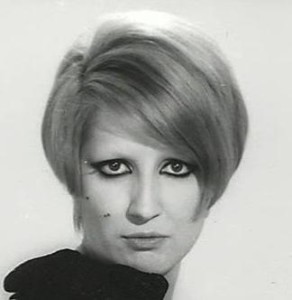 In 1964, once her television ban was lifted, Mina's success became a worldwide phenomenon.  Her songs soared in European and UK charts.  She toured Europe, appearing on Venezuelan and Spanish TV, and Germany, Austria, and Switzerland voted her the world's most popular singer.  Notable composers wrote songs specifically to showcase her extraordinary vocal range, such as Ennio Morricone's Se Telefonando and the sassy, mellifluous jazz number, Brava by Bruno Canfora.
In 2006, Mina married the Swiss cardiologist Eugenio Quaini and became a Swiss citizen.  While she is no longer a high-profile figure in the music industry, she remains an inspiration to musicians and composers, and in Italy her name is sacrosanct.  The five dynamic decades of Mina's career, resulting in 77 albums and 71 singles on the Italian charts, prove that hers is a talent that will endure for years to come.
Leave a Reply