For a culture so rich in both language and cinematography, it's no surprise that Italian film offers the world some of the most famous and widely repeated movie quotes.  For those looking to improve their Italian listening sills, or for the lover of international cinema, here are a few of our favorite quotes from great Italian movies.
1. "My dears, happiness consists of being able to tell the truth without hurting anyone."  8 ½—Considered by many to be Federico Fellini's masterpiece, 8 ½ is a quasi-autobiographical work, the lament of an artist who feels he is past his prime.  Fellini explores the themes of life, love, truth, and beauty and in relation to the modern lifestyle.
2. "There's a cure for everything except death."  The Bicycle Thieves—A classic of Italian cinema, The Bicycle Thieves is an emotional look at post-WII depression era Italy, with the snappy sense of humor, grimness, and appreciation for beauty that is quintessentially Italian.
3. "Buongiorno, Principessa!"  Life Is Beautiful—Roberto Benigni's shockingly funny and heartrending drama of a family torn apart by the Holocaust won him three Oscars.  A movie of hope, humor, and love even in the darkest times, this is a must-see for anyone.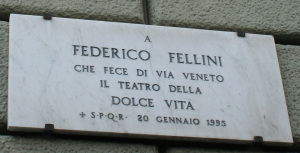 4. "Life isn't like in the movies.  Life is much harder."  Cinema Paradiso—A film that is both a coming of age tale and a love song to all cinema, Cinema Paradiso tells the story of Salvatore Di Vita as he experiences youth, friendship, love, heartbreak, and an artistic calling that helps him endure it all.
5. "It is not always easy to explain our country to foreigners.  In Italy the slowest trains are called 'fast' and the evening news comes out in the morning."  Il Divo: the Spectacular Life of Giulio Andreotti—Telling the story of Giulio Andreotti, the Italian Prime Minister who served seven terms since 1946, here is a detailed and intricate look at the political workings of the Italian government since WWII.  Both comic and horrific, it examines the corruption and violence inherent in Andreotti's political scheming.
6. "We're all on the brink of despair.  All we can do is look each other in the face, keep each other company, joke a little.  Don't you agree?"  The Great Beauty—Another critically acclaimed work by contemporary director Paolo Sorrentino, The Great Beauty looks at the absurdity of existence through the eyes of a jaded, elderly writer.  Witty and sumptuous in the tradition of classic Italian film, this will appeal to lovers of Fellini's films.
7. "I'm gonna make him an offer he can't refuse."  The Godfather—While Francis Ford Coppola's mafia masterpiece is technically an American film, no list of famous movie quotes is complete without a mention of its many renowned one-liners.  Other good ones include, "Luca Brasi sleeps with the fishes," and, "Leave the gun.  Take the cannoli."
Anyone interested in watching these films for themselves will find themselves entranced by the rich and thought-provoking of Italian cinema.  Send us an inquiry to get started learning Italian for yourself, or check out our different Italian courses for yourself.
Leave a Reply